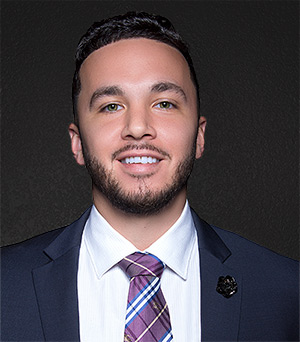 Joseph D. Guevara
Attorney/Partner
A native South Texan, Joseph Guevara hails from Corpus Christi, Texas. He earned his bachelor's in Business Finance from the Bauer School of Business at the University of Houston where he was active with community-focused organizations and was recognized for his academic achievements.
Joseph Guevara earned his law degree at the Texas Southern University's Thurgood Marshall School of Law. During this time, he was an active member of the Hispanic law Student Association and served as his practicum with the General Consulate of Mexico, Bexar County District Attorney's office in the Special Victims' Unit, and at the Torres Law Firm in Corpus Christi, Texas.
Since then he has been fighting for the release of people from immigration detention centers, granting individual citizenship rights in the United States, fighting for personal injury clients and navigating the criminal justice system.
Joseph has argued before federal courts throughout the United States, including Louisiana, Maryland and New York, for clients who recognize him for his compassion, work ethic and determination. He is passionate about helping people in difficult situations, working to solve their problems and enabling them to realize their dreams.
Courts of Admittance
State Bar of Texas
Federal Southern District of Texas
Federal Southern District of Texas - Bankruptcy Court
Federal Western District of Texas
Education
Texas Southern University, J.D. Law
University of Houston, B.A. Finance, Dean Lists